Australia 2020-2021
The year 2020 marks the 250 year anniversary of Captain Cook's discovery of Australia. To celebrate the Aussies are holding a six month festival to which I've been invited to attend. I'll be a featured artist at the festival and have been asked to deliver a number of presentations or workshops while I'm there. It's still a long way off so exact dates and locations are yet to come and will be announced when available.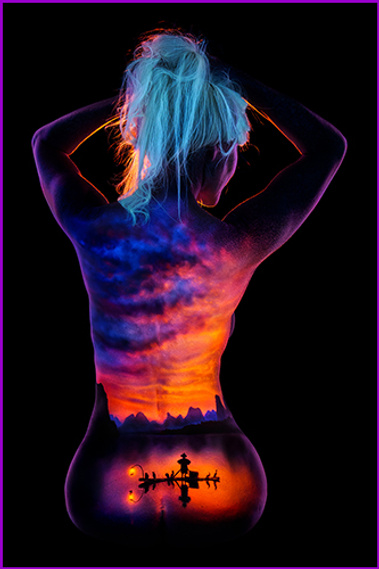 Weekly UV Bodyscape Classes Coming Soon
Starting in August I'll be hosting weekly UV Bodyscape classes at my studio in Wellsville, Utah, USA. Space is limited to four students per class. If we get enough people that are interested we will work out a larger venue. Models, tools and materials will be provided but you're welcome to use your own.
The price per class will be $50 but is subject to change based on expenses.
Most classes will be geared for students with little to no body painting experience wanting to learn my UV Bodyscape techniques. More advanced classes will be made available in time.
If interested, please join the Facebook group.